What is Piano for Pleasure?
At Piano For Pleasure adults of all ages enjoy playing the piano in a relaxing, fun environment. The studio

 was founded upon the core principles of Recreational Music Making (RMM):
All people should experience the joy and benefits of music making

Music making can be enjoyed without stress and performance requirements

Music making can nurture the whole person and improve quality of life

Music making is beneficial to the health of the participant
"I love that learning piano is something I am doing just for me…I feel like a kid again learning something new!"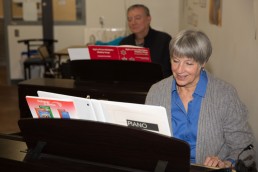 At Piano for Pleasure, classes are taught in small groups and feature the following:
A friendly, supportive learning environment: we enjoy each other's company!
Generous 75-minute classes allow time for instruction, individual practice and review, ensemble playing, and socializing
Most

 activities take place on headphones: hear yourself, and hear the instructor talking and demonstrating

The instructor's hands and the printed music are projected on a TV screen

Short, manageable sessions offered year-round
No more than eight students per class
Playing for the class is always voluntary, and there are NO RECITALS!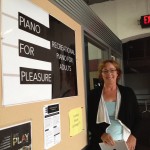 Piano for Pleasure is located at BOTTLE WORKS in Cambria City, Johnstown's historic cultural district. Parking is free, the building is handicapped accessible, and the studio and restrooms are on the main floor. Class participants are invited to relax and view the art work before or after class, or browse in the gallery shop. There's also free Wi-Fi!